This dress was created by Kevin and I for our friend Mary, so she would have something to wear at her White Scarf ceremony.  It's a pretty big deal in the fencing community, and Mary had certainly earned it, so we were excited for her.  Problem is, they wanted to give it to her before she left for Spain, which meant that we had a week to make this dress, start to finish.  We think it came out pretty great.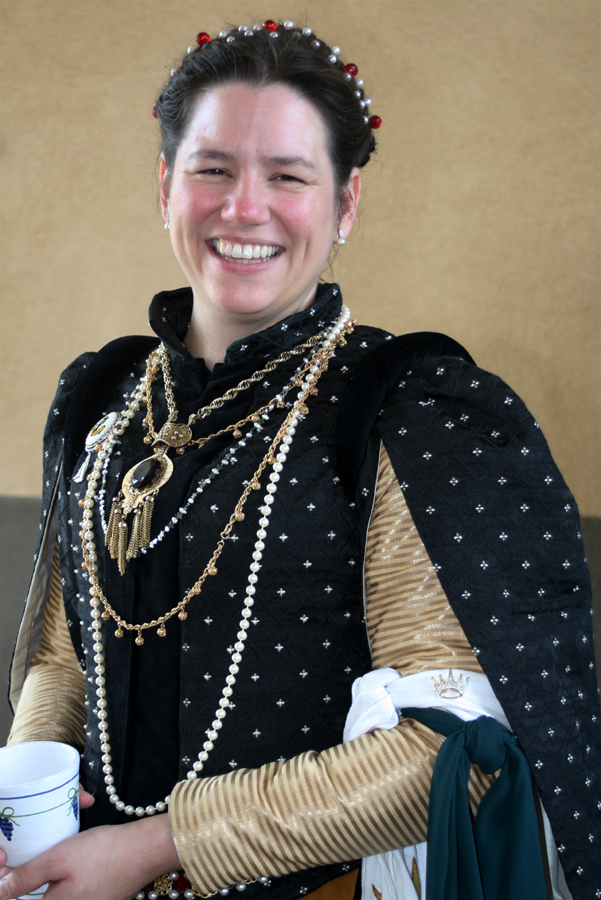 Mary's persona in the SCA is Spanish, so we started looking at some portraiture to get ideas.  Mary already knew she wanted black, so it was nice that that was settled.
Having at least an idea of where we were going – a doublet bodice, double sleeves, in black – we started looking through fabric.  Mary and Puck had this great fabric with a motif of four little white dots in a cross that we decided would make an attractive bodice.  Kevin and I had some black velveteen and gold velveteen in our stash.  The only thing we had to go out an buy was the fabric for the striped undersleeves (Joann's home decor fabric) and the hanging sleeve linings.
Luckily for us, Mary already had a Renaissance style corset from her wedding dress, so we could skip that step.  We went straight on to drafting a doublet bodice pattern and making a farthingale.  It was important to get the doublet cut out and put together as soon as possible, because we (in a moment of fevered insanity) decided to cover the bodice with seed pearls, one at each junction of the pattern.
As Mary beaded the doublet, Kevin and I worked on sleeves, and piecing a skirt.
One of the things that gave us a little trouble was how to hem the skirt. It was too long, by a little, but we really didn't want to have to sew over the hem, because that velvet was cursedly slippery stuff.  We ended up completely lining the skirt, which made it a bit heavier, but then leveling the hem was just a matter of pulling up the lining until it looked right.
One of the other things that I thought this dress really needed was a belt  As you notice in this picture, it's just a little too undefined in the waist
I'm particularly proud of this, because I have never attempted jewelry before, but I decided I would make Mary a belt to go with her dress.  I looked at some portraiture, and noticed that repeating, squarish patterns were common, like so:
I decided to go with pearls, gold and red, as that seemed to go with the look of the dress.  I ended up using pearl beads, red faceted beads and these gold buttons I found at Joann's.  I wired it all together with gold wire, and would up with this:
You can see a slightly better view in the first picture, under Mary's arm.  The last thing to do was sew on the the velvet guards down the front of the dress, and it was as ready as it was ever going to be.  On the day of the event, I helped Mary sew the rest of the pearls and jewels from making the belt into her hair.  She had a load of fabulous jewelry in her collection, which I think really helped pull the look together.  Looking at it now, I can see the mistakes (the collar doesn't close properly, things of that nature) but it is really a gorgeous dress, and the work that went into it was amazing.
~ Sarah